*****Warning, long photo heavy post*****
I have some awesome news to share, I am now designing for
Scrapping the Moments
! Yahoo!!!! If you haven't been to visit yet, please click
here
to become a member. Join me and my incredible teammates on November 13 for our Grand Opening and first challenges post on November 14!!!!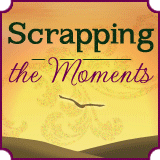 Better Living though Scrapbooking is having a Design Team search until November 15,
here
are all the details!!!!
November BetterScrap.com November Challenge #1
"Bucket List" Challenge

Create a layout or mini-album about the items on your "bucket list" (things you want to do or see before you "kick the bucket").
Chose at least 2 of the following:
1. Use only scraps of paper from your scrap paper collection in the album.
2. Use photos printed from a royalty-free photo website such as Stock Xchange to represent the items in your album from your "bucket list".
3. Use color mist such as Tattered Angels, walnut ink spray, or your own homemade color spray to add some color to your mini-album pages.
4. On the cover of your mini-book, use various rub-ons for the title.
I chose to create a Lfe List album. I used #1 scraps, #2 photos from Photobucket, #4 various rubons for my title....
I so loved this Punky Sprouts album, so easy to work with!

Above is the inside cover
I counted down my top 5 "life list" items, with the above page sharing the cabin I want Ben and I to build on the lake when we retire!

Number 4 on my list is to return to the island where my heart lives all day everyday, Tybee! I told Ben I want the two of us to take a trip there every summer!!!!
I know it is difficult to tell in the photo, this page in the album was acrylic. I put the paper on the under side and used the rubons directly on the acrylic. In April 2011, my Ashlea will be dancing in a competition in Disney World. Since Jon-Christopher was born, I've had the dream for my entire family to travel with the little kidz to Disney....this one will be checked off in April, as the entire family is already booked!!
This is the best photo I could find of Haiti, that didn't upset me with the devastation being shown. Since the quake in January, my heart has longed to take a mission trip there. I begged Ben to lets try to adopt some of the children who were left alone. I hope this item can be checked off too!
Finally, number 1 on my list is to travel to Sydney Australia with my Honeybee the very summer that I retire from teaching!!!!

This album was such a process of searching the soul for things I want to live out! It was difficult for me to narrow my list, but in the end I decided upon my "Top 5 Life List". I used Photobucket.com to locate and print all of the photos in this album. Instead of printing them on normal photo paper, I used Colonial White cardstock from Close to My Heart. I love the soft feel it gives the photos. As you can tell, I used my favorite technique of distressing all the edges with inks.
I hope you will be inspired to play along with us this week and create your own "Bucket List."

Sponsor Supplies Used:
Cardstock: Discount Cardstock "Clove Felt 80#"
Album: Punky Sprouts "Savvy Sprout"
Embellishments: Charlene's Button Box
Adhesives: Plaid: All Night Media "Pop Dots
Plaid: Mod Podge "Demensional Magic"
Paint: Plaid: Apple Barrel "White"
Additional Supplies Used:
Cardstock: Close To My Heart "Colonial White"
Patterned Paper: Graphic 45 "Le Romantique Collection"
Patterned Paper: Sassafras "Serendipity"
Patterned Paper: Cloud 9 Design "Alyssa's Garden"
Patterned Paper: Basic Grey " June Bug"
Ink: Close to My Heart "Cocoa, Blush, Sorbet"
Stamps: Close To My Heart "Felicity"; The Cutting Cafe "Jot it Down"
Embellishments: Making Memories "rub-ons, journal tags"
Embellishments: Hobby Lobby "butterflies"
Embellishments: Flowers "Prima, Recollections"
Embellishments: Bing "Jolee's, Prima, Recollections, EK Success"
Embellishments: Prima "Alphabet"
Miscellanous embellishments: chipboard and ribbon
Blessings,