Good Morning Girlfriends!!!!
Today is a special day for friends!
Queen Bee
is hosting this fabulously fun blog hop. You must go to
her blog
to begin. If you didn't come here from there, please go visit, I don't want you to miss a minute of this stylish, sassy, BFF FUN!!!!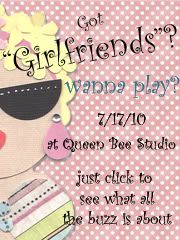 Here is the smashing little Diva that I created! I was feeling all lilac and pearls for the occasion!
I'm also posting a photo of two of my BFF's! This is JK2 that is (JK squared)....that was our band name two years again at a staff talent show for the students. Kim Miles on the left, me, Jan Caudill. Both are my third grade teaching partners at school. Love you girls!!!! Oh, this photo was taken on a kick off to state assessments day.
Be sure to hop over to
Queen Bee's
so you don't miss out!
Blessings,